Personalizing your space is crucial for making your property feel like home. Whether you've recently purchased real estate or are simply hoping to revamp your current space, take a look at these en vogue trends to find inspiration for your own interior design.



1. Earth tones and accents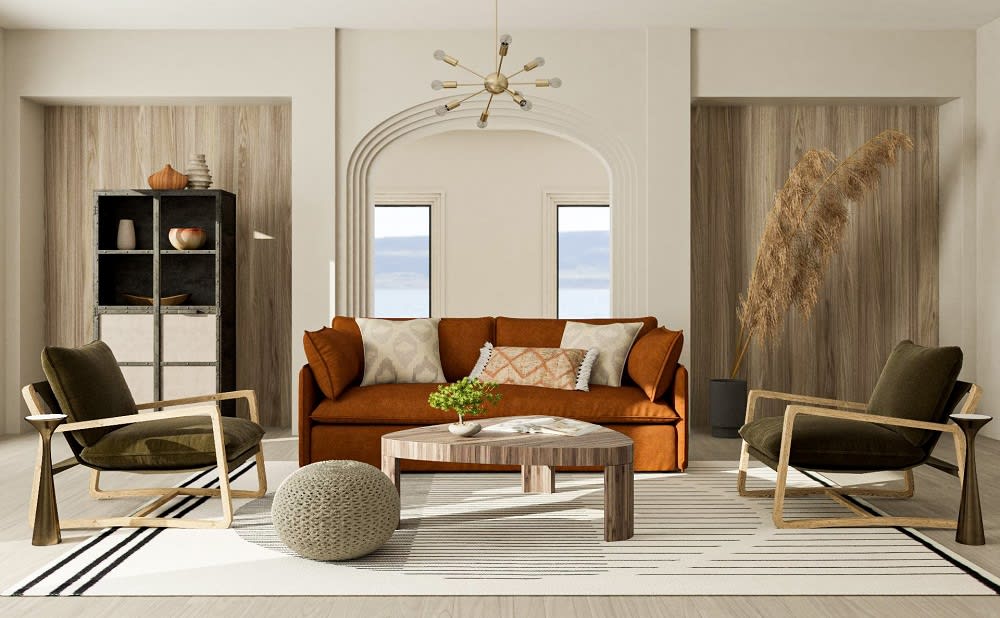 Photo courtesy of Modsy Blog
It is widely known among interior designers that natural color palettes "reduce stress, lower blood pressure and heart rate, increase productivity and creativity, and make us happier." It is because of these benefits that many design experts predict earth tones and earthy accent pieces will be big in 2022. Earth tones, like olives, shades of browns, and even light sky blues, are becoming increasingly more popular with homeowners.

For accent pieces and tones, think wooden knickknacks and wildlife-inspired hues. Stones with prominent graining, dried grasses, and leafy items are all elements of this trend. If you're excited about these trends but need a new home in which to try them out, talk to a Highland Park real estate agent.
2. Fabric-covered headboards
These iconic pieces of furniture are making a comeback with ornamental, bold curvatures and light tufts. Place one of these in front of a grass-cloth wall and watch the room pop with a trendy yet comfy vibe. This transforms bedrooms into a sumptuous retreat to step into at the end of a long day.
3. Do-it-yourself features
According to experts, the do-it-yourself trend is here to stay. As the climate changes impact us, more and more consumers are choosing to create their own pieces using sustainable materials for a one-of-a-kind look in their space. These accents include temporary wallpaper. You can apply wallpaper to just one wall to give a cohesive look to a room.

DIY work is a crafty, economical, and environmentally friendly way to give your space a stylish look without the cost or negative environmental impact. Think papier-mache, hand-drawn artwork for a gallery wall, pictures taken by and developed from your iPhone, or a cross-stitched piece of art hung above your mantle. There are plenty of imaginative ways to sustainably decorate in 2022.
4. Mix and match
Mixing and matching different patterns, fabrics, furniture, and accent pieces within the bedroom could be perfect for the new home on your wishlist. Consider purchasing two complimentary nightstands as opposed to a matching set. While matching bedroom sets are falling out of favor, be sure to incorporate a subtle sense of cohesiveness when decorating with mixed and matched elements.
5. Statement lamps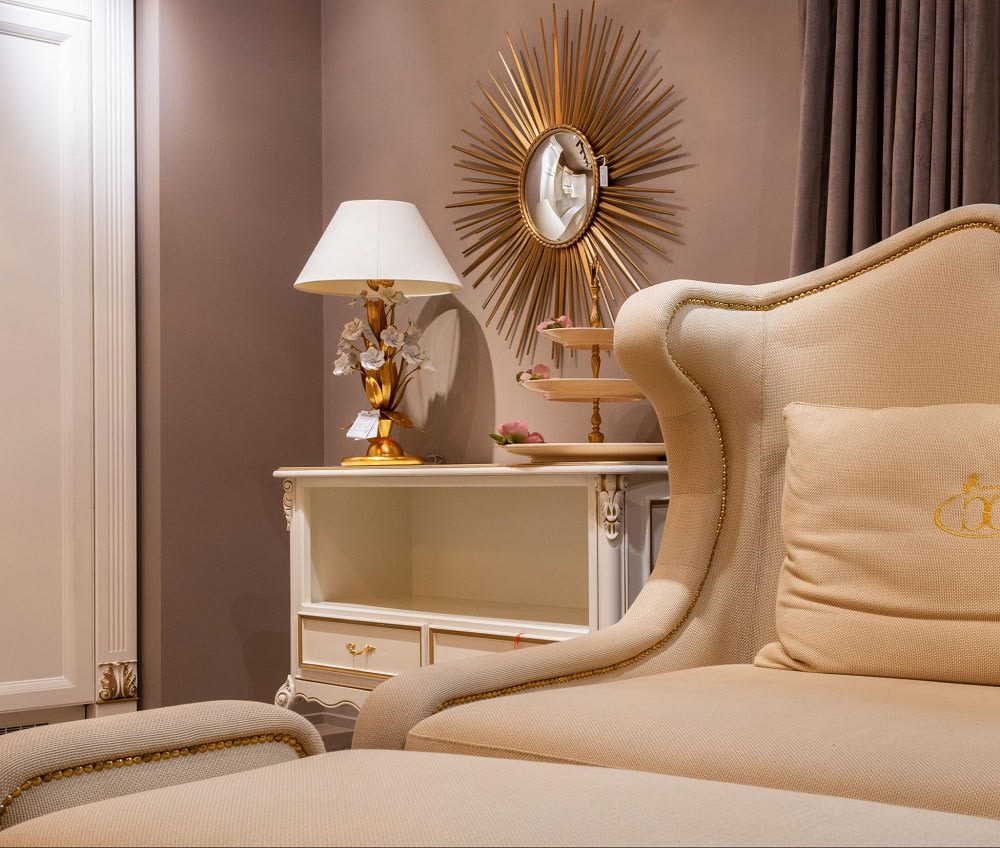 Lamps not only brighten our rooms, but they also lift our spirits. Interior design experts anticipate that we'll see an uptick in unique, sculptural lamps to ground our rooms and provide something bold for our eyes to linger on. For example, you can use vintage and antique pieces to complement an environmentally friendly take on decor, and lamps that hang in unexpected ways, such as floating off the walls. Imagine placing a striking decorative lamp in the living room to make it your own.
6. Biophilia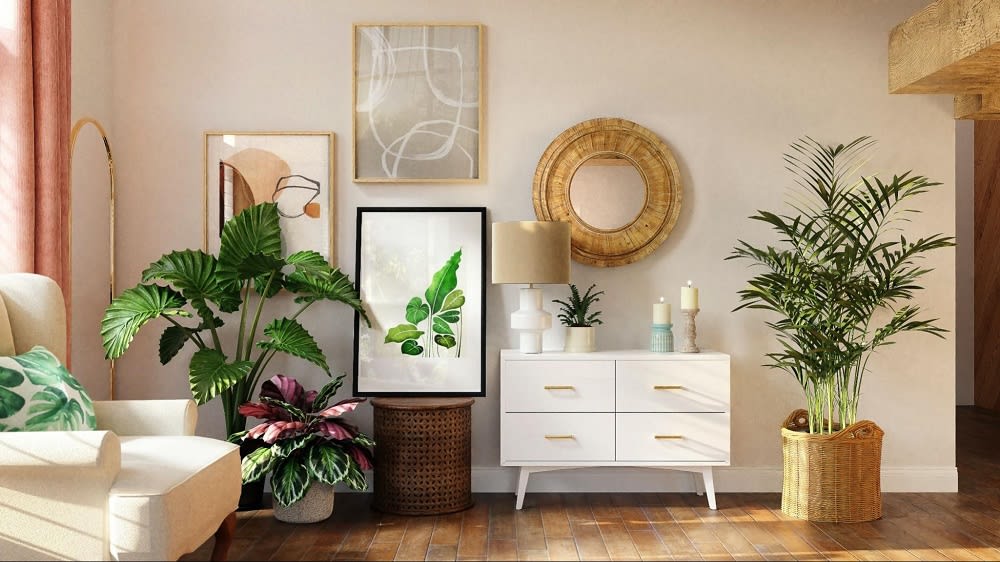 Biophilia (which from Greek translates to "love of life or living things") is a trend that has been on the uptick for a while now. This trend brings nature into the home through the use of natural fibers, organic prints, earth tones, and plants. Experts think this trend is seeing a surge because of all the time we've spent indoors over the last two years. We feel the need to bring some of the outdoors into our homes. Try soft greens with wooden accents, along with wicker baskets and bamboo pieces to capture the feel of the earth inside a new home.
7. Curvaceous elements
If you're old enough to remember the curvy accents of home decor in the '60s and '70s, you'll be happy to know the trend is back in a big way. Interior design is seeing a rise in furniture that is curved, including sofas, barrel chairs, and mirrors. Curves that draw the eye add something dynamic to a room.

From the desire to bring nature into the sustainable, wise choice of DIY features, 2022 is shaping up to be an exciting year for interior design. These trends provide creative ideas to transform the blank canvas.


Ready to take the plunge and explore Highland Park real estate in 2022? Reach out to one of the trusted agents on The Jane Lee Team to get started today!